Sailing at once!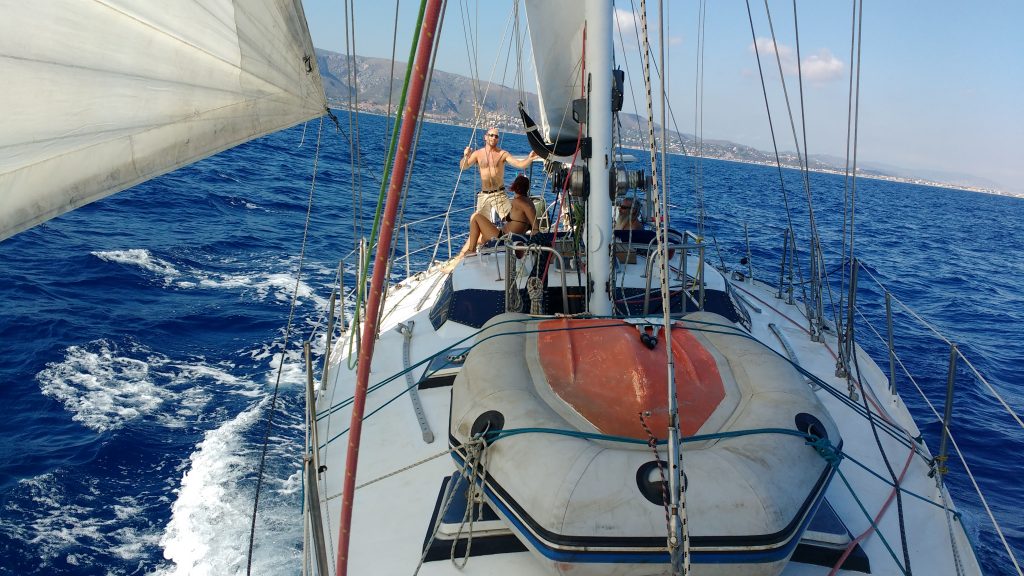 During the summer of 2016 we ran the final sprint: after the hard week spent to replace the engine (we made a good one out of two buggered ones), we could finally afford some short sea trials.
A friend came all the way from France to tune our rigs and fix the genoa furler (thanks Romain!), and then we had to battle with the last big issue: the steering system's hydraulic piston was leaking once again, and seemed to go worse day after day… At the end Rocky found a workaround, replacing the hydraulic fluid for a denser one.
At last, we could finally set sail for a more serious test: a 355nm trip along the Mallorca and Menorca northern coast.   This maiden voyage has been a very deserved holiday, as well as a very good way to getting to know the boat's behaviours.
Generally speaking, L'Alliance met our expectations. It's a heavy displacement boat, and barely moves with less than 10 knots of wind (unless we set the light reacher foresail, which is only good up to a 60+ deg angle at best). But in 15 or 20 knots of breeze she goes like a dolphin, and we have been sailing at up to 7.5 knots of speed. Close-hauled she makes a poor 54º angle to the wind (at least that's what we managed to afford by now) but she's one of the most comfortable boats I have ever tried in this sailing trim: she leans on her sharp chine, and she keeps a constant 5º to 6º heel angle.  
The "new" oldish engine runs smoothly, and provides a cruising speed of 5-6 knts, which is great…but  soundproofing the engine compartment is now in the top ten of our worklist!

We are especially satisfied with our electrical system, because during those 10 days our solar panels and the wind gen managed to keep the batteries always charged, despite two fridges. radar and autopilot almost always on. (But we have to admit that we motored a lot, and the Sun was shining hard 12hrs a day…)
We are also very happy about our powerful windlass, even if we realised that we have to change the plastic barrel in which we drop the chain: it's a bit too small, and sometimes the chain jams while heaving anchor.
The real satisfaction was to finally see L'Alliance alive, to see every detail of this complex machine finally working together, and fulfilling their functions: sails, winches, rudder, autopilot, engine, tanks, gauges… the chart table was used for the very first time as a chart table, we finally took our first shower on board, we cooked our first meal under sail… After more than 5 years of work, at last it looks like we actually did it!
Now the whole crew went back to work, to raise some more money for the big Voyage. We will meet all together next December, to prepare L'Alliance to finally set sail and start our adventure.
We plan to leave Barcelona before the end of the year, in order to start 2017 on our way out of the Med.