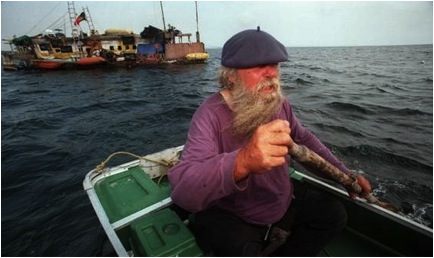 David Pearlman (1933/2011) was an itinerant philosopher, adventurer and environmentalist widely known as Poppa Neutrino, who founded his own church, crossed the Atlantic on a raft made from scrap and invented a theoretically unstoppable football strategy.  Mr. Pearlman, whose improbable life was chronicled by the New Yorker writer Alec Wilkinson in "The Happiest Man in the World" (Random House, 2007), had no fixed abode but had spent the last two years in Burlington, Vt., building and testing a new raft on Lake Champlain that he planned to sail around the globe.
A lifelong wanderer, he developed a philosophy that emphasized freedom, joy, creativity and antimaterialism, a creed expressed in the rafts he built from discarded materials. About the rafts, he wrote on his Floating Neutrinos Web site, "We believe that seagoing raft communities represent a huge, underutilized potential for healthy life on the planet – in contact and in harmony with the elements of nature; world-nomadic, in contact and in harmony with all cultures; reviving and bringing forward all the positive aspects of seagoing life of all times, with the character-building elements inherent in the necessary struggles of everyday life on the oceans of the world. "
In the 1980s he and his fourth wife, Betsy Terrell, formed the Flying Neutrinos, a jazz and rhythm-and-blues band drawn from family members and their many fellow travelers. It is now led by his daughter Ingrid Lucia Marshall, who uses the stage name Ingrid Lucia, and Todd Londagin, a musician he raised as his son.
In 1988 Mr. Pearlman converted an abandoned barge into a paddle-wheel houseboat, Town Hall, that tied up at Pier 25 on the Hudson River off TriBeCa for several years. It was then that he began scavenging the material for "Son of Town Hall", a 40-foot raft made of discarded timber, foam bricks and plastic bottles lashed together, basketlike, with 3,000 feet of rope abandoned by Con Edison. In June 1998 Mr. Pearlman set sail from Newfoundland, aiming for France, with his wife, two crew members, three dogs and a piano. After 100 days, the raft reached Ireland, having survived a Force 9 gale… Don't miss their videos!