Henry Wakelam
Born in Shangai in 1931 from an English father and a Siberian mother, the war eventually obliges his family to leave China. They first move to Malaysia, then to South Africa. It is there that Henry builds his first wooden boat, 6,5 meters long…
The readers of Bernard Moitessier's firsts books* have certainly noticed this particular character, whose do-it-yourself attitude shows glimpses of pure genius.
In the fifties, between Durban and Cape Town, an inevitable friendship grew between the two sailors, who shared a bohemian lifestyle, the art of makeshift, and an indomitable sailing instinct.
In 1957 they were among the first cruising sailors to use rope made of synthetic fibers: they scavenged serviceable yarns from nylon hawsers discarded by whaling ships and twisted them into three-strand line to use as halyards! From Wakelam, Moitessier seems to have learned much about scrounging and living off the land, including cormorants and penguins killed by slingshot in the harbor… Leaving from Cape Town, the two single-handed sailed and raced across the Atlantic, stopping on St. Helena, visiting Ascension and Fernando de Noronha, and making a landfall at Trinidad. Each time Marie Thérèse II dropped the anchor, Wanda was already there…
From the Caribbean Islands Henry crosses the Atlantic Ocean and reaches the UK, where he finds a job and gets married to Ann. Always aboard Wanda, the couple sets sail to Marseille, where they meet Bernard and Françoise who are preparing the world famous Joshua (Bernard will later write that Henry, in order to help them, did the whole engine installation in just a few days and without even docking the boat!).
During the same period, since Wanda was too small for a live-aboard couple, Henry decides to sell her. With an incredibly adventurous spirit Henry buys (very cheaply) his first steel hull: 10m long, directly from the sea floor!
Laboriously re-floated -thanks to Henry's craftiness and determination- in just a few months and with very little money the wreck becomes " Shafhai " **, a sailing ketch that during 1962 serves as school boat along with Joshua, in the aim for both couples to feed their respective piggy banks.
During the following winter Henry decides to repeat the "exploit": this time the target is a 15 m steel hull, built in Amsterdam in 1936, which he saves from the fleet and transforms into another "new" ketch: the "Pheb" ***. Even his most confident friends are amazed by the speed in which Henry makes a success of this new challenge, and next year, after the sailing school season in the Mediterranean Sea, Pheb is ready to carry Henry and Ann through the Atlantic Ocean.
Four years later, the couple already has a baby and Ann is waiting for a second child… the lack-of-space fever sets on the sailor once again, and this time Henry falls in love with a really exaggerated wreck:
A 41m steam vessel built in 1911, refitted in 1951 – When 2 diesel engines were installed- and definitively put out of service in 1963. At the beginning of its dismantling, the hull manages to "escape" from the harbor by breaking its mooring lines during the cyclone Ines in September '66. It sadly ends up washed onto a sandbank. At this stage, not even for the swashbucklers it would be profitable to rescue it…but for Henry Wakelam it´s just the beginning of a new adventure.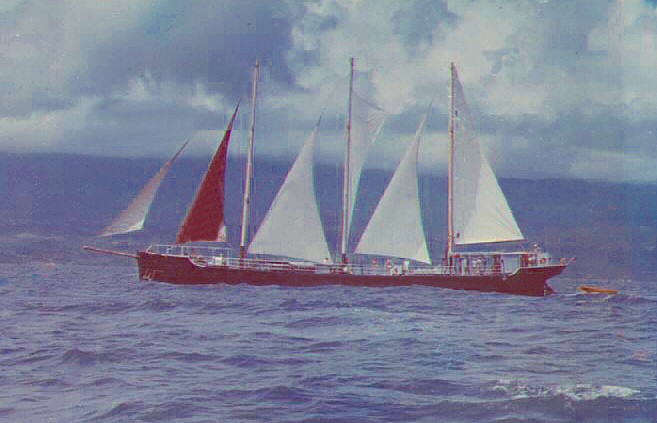 In seven years of titanic work, almost alone (because Ann was mostly taking care of the children), Henry builds an impressing three masts schooner, which he baptizes Nahoon. After some offshore passages between Martinique and Guadeloupe, in '76 the maritime administration starts asking for the vessel's papers… Henry and his new girlfriend Babette find themselves having to leave, as they could not afford to pay the taxes for a boat that size. They decide to set course to Trinidad and Tobago.
After a few years of Caribbean wanderings and escaped hurricanes, exhausted by Nahoon's maintenance, Henry begins the construction of a smaller boat: Operculum, a 42ft polyester made, with which in 1984 (once the Nahoon was sold to Californians which thought of transforming her into a restaurant) he sailed all the way to New Zealand, where he still lives nowadays.
In 2006 a couple of French sailors, Hélène e Gilles Blaisot, meet in New Zealand Paul Farge, a salty sea-dog who has been a team-mate of Yves Le Toumelin on Kurun. The old sailor takes them to Henry Wakelam's place. He now lives with Yannick (his current wife) in a small house in the countryside, which (obviously) he built by himself…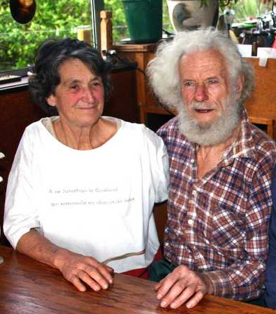 It is thanks to them that we finally managed to get Henry´s address and we were able to contact him…
To receive his answer (four hand-written pages) was very moving, but reading it pleased us even more… Very lucid and still in good shape in spite of his 80 years of age and a car accident which in 2007 caused him a <<broken collarbone, starboard ribs pushed into diaphragm and port lung, broken pelvis and port leg>>, Henry underlines that he is still totally independent, and that before needing somebody to take care of him he´ll definitely prefer to blow himself up with a charge of dynamite. He's very satisfied with his small house, his garden and especially his workshop, equipped with everything he needs, including a lathe! He continues to dedicate himself to the highest standard of do-it-yourself, always looking for THE simple Invention (he already holds two patents).



He congratulated us for the initiative of reconditioning an old boat rather than buy a pre-made "tupperware", and offered us any kind of advice concerning the reconstruction of L'Alliance, because of his huge experience in the field of rusty boats…
Now we are even more anxious for the work to come to an end, as when we´ll finally be able to leave we´ll definitely have one major destination: New Zealand, where we can meet him personally!
PS: you can also read a more recent post that Rocky wrote after meeting Henry and Yannick
PPS: Henry Wakelam left this world on April 14th 2017, one year after his wife Yannick.
*Moitessier speaks about Wakelam in "Sailing to the reefs", but also in "Cape Horn: the logical route"
** Contraction of the name of the home towns of Ann and Henry, respectively Shaftesbury and Shangaï
*** Contraction of "LIGHTHOUSES And Beacons", the public enterprise for which the boat had been built (PHares Et Balises)