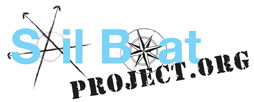 Sail Boat Project is a workers co-operative, registered as a Community Interest Company, based in Brighton.
They have got a Hobie Cat on Brighton beach, a load of inflatable kayaks, a 40′ Jeanneau sloop and a Westerly Renown yacht in Chichester marina that they use for sail training.
They aim to:  offer people access to the UK's nearest wilderness – the sea.
Provide UK and international sail transport for individuals and groups involved in positive social change activities.
Support the development of a whole range of skills among people involved in the Project, like: sailing, groupwork, engine maintenance, navigation.
Be an example of sustainable sailing boat practice.
Visit their web page at www.sailboatproject.org and join them for a sailing master class!